What is Edacious?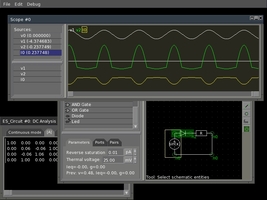 The Edacious project is developing an open-source electronic design automation (EDA) suite for purposes of designing electronic circuits and systems, simulating and analyzing their behavior, and producing standard PCB masks / other manufacturing data in an efficient way. A number of interfaces are provided:
edacious: A user-friendly graphical interface for circuit design/simulation and PCB edition (based on the cross-platform Agar GUI library).
edacious-tools: Unix-style utitilies, command-line interface (in development).
libedacious: C/C++ interface.
p5-Edacious: Perl XS interface (in development).
Edacious's circuit simulator is built from the ground up and is intended to complement the existing open-source simulators (i.e.,
SPICE
,
Qucs
). Component models are organized in extensible libraries.
Edacious is written in ANSI C, and is portable to the many platforms
supported by Agar
. The Edacious source code is freely usable and re-usable by everyone under a revised
BSD license
. Because Edacious is free software, you are encouraged to
make it more useful
.
News
| | |
| --- | --- |
| 11/17/2022 | You can now join the LibAgar Discord to discuss the project. |
| 09/21/2022 | Project website moved to edacious.hypertriton.com. |
| 09/14/2009 | Project website moved to edacious.org. |
| 03/24/2008 | This project was mostly unmaintained for the past few years, is now being undergoing development again thanks to GSOC. We hope to make a first numbered, stable release before January 2009. The current code is available from Subversion. |